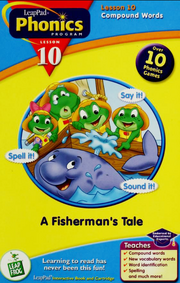 A Fisherman's Tale is the 10th Phonics Program book, teaching the concept of compound words. The interactive book and cartridge are included in the LeapPad Phonics Program on the LeapPad.
Characters
Plot
The frogs have a summer trip; they ride the boat across the sea... until something strange occurred. When thunder clouds full of lightning and rain spoil their fishing fun, the seas get rough! Who will rescue Lily, Tad and Gramps and bring the company back to shore?
Quotes
Tad: "Tell us another fishing story, Grandpa!"