Jurassic World: Dominion Dominates Fandom Wikis - The Loop
Play Sound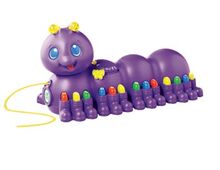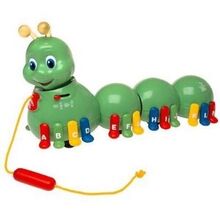 The Alphabet Pal Caterpillar is a caterpillar pull toy aimed at young children aged 1 to 6 to help teach them learn the alphabet. It was first introduced in June 1999, then it was remodelled in June 2001, and then 2008. Alphabet Pal has 26 feet which each contains a letter of the alphabet from A to Z. The vowel buttons are colors red, while the consonants are colored yellow, green, or blue. (In 1999 models, the alphabet buttons had a specified pattern: red, green, yellow and blue).
Most of the Alphabet Pals have uppercase letters, though some have lowercase letters. Alphabet Pals come in a variety of colors, such as purple, green, orange, red or pink. Edison is on the caterpillar.
Alphabet Pal uses three AA batteries.
Modes
The slider is a butterfly (2001 and 2008 models only). When turned on, Alphabet Pal plays an opening tune and says "Hi, I'm Alphabet Pal". In 1999 models, the caterpillar plays an opening tune followed by the phrase "Hi, I'm AlphaBug!"
Off - This turns off the alphabet toy. To preserve battery life, Alphabet Pal says, "Thanks for learning with LeapFrog. Bye-bye!", followed by a short closing tune, and then automatically turns itself off after approximately 20 seconds of non-use. (In 1999 models, the caterpillar automatically goes to sleep by saying "Bye-bye!" followed by a fun closing melody.) The caterpillar can be turned on again by pressing any button or changing the modes. The symbol is the word "Off".
Letter Names - Touch a letter to hear its name. The symbol is "ABC".
Letter Sounds - Touch a letter to hear its sound. Starting with 2001 models, Alphabet Pal can not say curse words (except for the extremely racist N word), it instead giggles and says "That tickles!" The symbol is a frog talking in 1999 and 2001 models, or a talking letter A in 2008.
Colors - Touch a colored boot to hear the name of the color. The symbol is a crayon (or a paint palette in 2008.)
Music (introduced in 2001 models) - Touch a letter to hear a song whose name mostly begins with each letter from Are You Sleeping? to Z-Wait for the Wagon. The symbol is a musical note.
Edison introduces his name to the alphabet song (2001 only). Once he's pressed again for the second time, an instrumental version of the Alphabet Song will play.
Alphabet Pal sings the Alphabet song when pulled.
Letters, Colors, and Songs
| Letter | Color | Song |
| --- | --- | --- |
| A | Red | Are You Sleeping? (also known as "Where Is Thumbkin?", "Two Tigers", or "Frere Jacques") |
| B | Yellow | Billy Boy |
| C | Green | Oh My Darlin' Clementine (also known as "Found A Peanut") |
| D | Blue | Did You Ever See A Lassie? (also known as "The More We Get Together" or "Oh du lieber Augustin") |
| E | Red | East Side, West Side (an excerpt from "The Sidewalks of New York") |
| F | Yellow | The Farmer In The Dell |
| G | Green | Greensleeves (also known as "What Child Is This?") |
| H | Blue | Hey, Diddle, Diddle |
| I | Red | I've Been Working On The Railroad |
| J | Yellow | Jimmy Crack Corn (also known as "The Blue-Tailed Fly") |
| K | Green | Camptown Races |
| L | Blue | London Bridge |
| M | Yellow | Mary Had a Little Lamb (also known as "Merrily We Roll Along") |
| N | Blue | The Daring Young Man On The Flying Trapeze |
| O | Red | Old MacDonald Had A Farm |
| P | Yellow | Pop! Goes the Weasel |
| Q | Green | Chopsticks |
| R | Blue | Row, Row, Row Your Boat |
| S | Yellow | She'll Be Coming Round the Mountain |
| T | Green | This Old Man (also known as "Apple Round, Apple Red") |
| U | Red | Upside-Down World |
| V | Yellow | Froggie Went A Courtin' |
| W | Green | The Wheels On The Bus (also known as "Buffalo Gals" or "Magic Penny") |
| X | Blue | The Yellow Rose Of Texas |
| Y | Yellow | Yankee Doodle (also known as "Simple Simon", and "Lucy Locket") |
| Z | Green | Wait for the Wagon |
See also