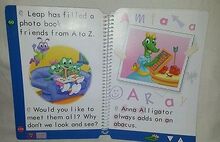 Anna Alligator (born October 27, 1990, age 30) is a mathematical 9-year-old alligator who loves to learn all about math at school and use her abacus, in fact, she likes to add on it. She is considered the most smartest young mathematician in Alphaville.
She was born October 27, 1990; Her full name is Anna Jeanne Alligator.
She was born in Winnipeg, Canada.
She is the first reptile in the animal alphabet.
Her voice is provided by Meagan A.C. Smith, who also does Yetta Yak. Note that in Leap's Friends from A-Z, her voice (also Yetta Yak's voice) is somewhat similar to Gwen in Ben 10, since Smith voiced her.