Jurassic World: Dominion Dominates Fandom Wikis - The Loop
Play Sound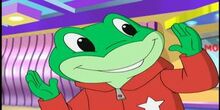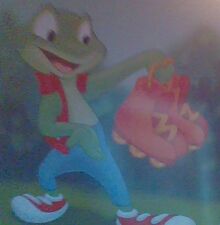 Leap is a male frog who is the protagonist of the series. According to the R&S Little Leap, he is mentioned to be "Little Leap". His friends, better known as his brother and sister, are Lily and Tad. He is the oldest frog child of the frog kids. He wears a red vest with stars on his pockets (replaced with a red jacket with a star on it in 2003) blue jeans, and red sneakers and is 10 years old in 1999-2013. After the redesign, he is 11 years old, marking the oldest of the frog children.
Voice
His voice was provided by Zachary 'Zac' Schuman from 1997-2001, Candi Milo from 2001-04, Pamela Adlon Segall from 2002-2003, Cindy Robinson from 2004-2013 (the longest running Leap voice ever) and Alessandro Juliani since 2014.
About
He's 8 years old (from 1999-2008; 10 years old from 2008-2012, 11 years old from 2014-present). He's a boy - and yes, a frog. He is energetic, curious, and loves to invent anything. Call on him and he will invent anything you wish, (Kind of anyone else you know? Well... not Albert Einstein!) and there is no other wunderkind that can do it any other than him! He will also give you some advice: he likes his ABC's more than the numbers.
Personality and Facts
Leap is the smart and inventive frog and is the mascot of all LeapFrog products. His name appears as a frog. He is a funny but kind brother to Lily and Tad. Leap made an invention to pluck out Lily's tooth, in which it was loose in Lil's Loose Tooth. Leap celebrated his 8th birthday (8 was his exact age) and used new roller skates in The Birthday Hunt. In Counting on Leap, he once forgot an errand from Mrs. Frog, but did it quickly. He videotaped the recital, also at the end of the story. In A Bark in the Dark, he sticked with Lily to find out an eerie noise. Leap also made an alphabetic photo-book in Leap's Friends from A-Z. In The Day Leap Ate Olives, Leap refused to eat olives but then liked them. He grew a large rose in Mole's Huge Nose. In the Plus Writing Book Pre-Kindergarten Math, he carried many presents in the book. In addition, he has three of his favorite instruments. In Our Town Band, he tells the readers that his favorite instrument is the glockenspiel, but also, he likes the saxophone and the trumpet (in Fiesta in the House/Town). He has many of his good friends, Della, Casey, Dan, Tim, Parker and mostly, Edison. He was also found singing and dancing in the Learning Screen Karaoke. You will also find him driving a car in right handed side of the See & Learn Driver. In Leap's Big Day, Leap loses his favorite kite and tries many transportation devices to get it back. He knew all about dinosaurs with the help of Professor Quigley. (2009 redesign)
In "A Tad Of Christmas Cheer" It is revealed that Leap is adopted.
Quotes
"Oh! Hi! I'm Leap. Come on in and meet me here!" (usual)
"No, Tad. That's the new sound. Sh." (Code Word Caper)
"Right, Lily. I'll talk to Tad later." (The Letter Factory)
"Well, what do you know!" (Lil's Loose Tooth)
"Good one, Tad!" (The Talking Words Factory)
"OK - so - uh... we don't use the spotlights." (The Letter Factory)
"Now we wait." (Code Word Caper)
"Only 26, Tad. But, maybe you're too little to remember all of 'em. Why doncha just sit and watch?" (The Letter Factory)
"....Tad?" (The Math Circus)
"And I!" (The Letter Factory)
"Not I the letter, but Dad told us to keep an eye on Tad!" (The Letter Factory)
"That's okay, Tad." (Learn To Read At The Storybook Factory)
"Okey-Dokey, artichokey!" (The Letter Factory)
[to his kite] "Oh, no! It's flying away!" (Leap's Big Day)
"OKEY-DOKEY, ARTICHOKEY! Oh, I mean heh heh. Okey-Dokey, artichokey." (The Letter Factory)
"Hey! Where did my kite go?!" (Leap's Big Day)
"Uh, Oh? And a bunch of other letters? Dad is almost done giving the tour to Mr. Websley!" (The Letter Factory)
"Shut the door!" (Code Word Caper)
"Let's hear it!" (The Letter Factory)
"Okay, let's see. What rhymes with BIG?" (The Talking Words Factory)
"And now, I'm introducing the big man who will be leading this factory tour...dad!" (The Letter Factory)
"Leave it to me!" (The Talking Words Factory)
"Oh, it's 6:00!" (The Letter Factory)