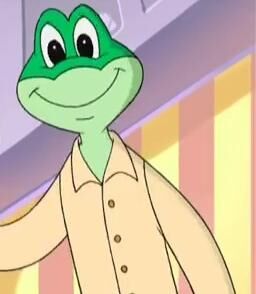 ​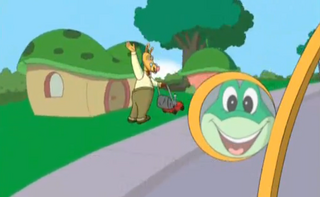 Mr. Frog or Dad Frog or Father Frog or Papa Frog or simply Dad (born June 10, 1966, age 55) is a male frog, father to Leap, Lily, Tad, and a total dilf. He is a frog adult with his wife Mrs. Frog. He is voiced by Kevin Schon in the videos The Letter Factory, Talking Words Factory and Code Word Caper, and the late Doug Boyd in the videos Learn to Read at the Storybook Factory and A Tad of Christmas Cheer.
In the video Learn To Read at the Storybook Factory, he plays as the mother of the Three Little Pigs, the hay man, the lumberman, and the brick man. He could be very little strict of his children. He was born in June 10, 1966.
He never appears in the post-2008 LeapFrog videos.
Tad's Journey Adventures
Mr. Frog & Mrs. Frog's Big Day Out
The Number Factory
Quotes
Okay, Let's get in the car. Who's ready to go? (The Letter Factory)
Here's where we double-check each letter to make sure it looks and sounds absolutely perfect! (The Letter Factory)
This is why we double-check each and every letter. (The Letter Factory)
I need a new letter H at checkpoint 3, please. Letter H at checkpoint 3. (The Letter Factory)
That's the letter H we know in love. (The Letter Factory)
Sorry Tad, I have to go to work. (The Talking Words Factory)
Drop it Professor! (Code Word Caper)
I'm so excited about our new factory! (Code Word Caper)
Time to change Your batteries! You need 4 new double A batteries. (LeapPad)
Gallery