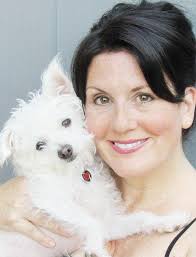 Sandra Marie Danielle "Sandy" Fox (b. Jul. 13, 1963 in Pittsburg, PA, USA) is an American actress, dancer and therapist who is the third official voice of Lily starting from the My First LeapPad book Once Upon a Rhyme all the way to the DVDs from late 2002-2005 and Penny from 2011-2013.
In the early 1980s, she worked for the Walt Disney Company in Orlando where she would participate in their live stage shows. She was working as a hostess at a Bennigan's Irish pub when she was asked to audition with the 1920s-themed jazz band The Cocoanut Manor Orchestra as their singer. She sang with the group for 11 years, performing songs done by singers Helen Kane and Annette Henshaw, the former was an inspiration for the Betty Boop character. In 1988, she joined the Orlando Magic's inaugural dance team, and was part of the Magic Girls for three years. She auditioned and then landed the position as the official Betty Boop for Universal Studios. In 1991, she started working full-time at their Hollywood park and on national and worldwide tours, visiting shows such as Good Morning America and The Rosie O'Donnell Show. In 1998, she voiced Betty Boop for "The Toon Lagoon Betty Boop" attraction at Universal Studios' Islands of Adventure in Orlando. In 2012, she joined a Lancome promotion in Paris as the voice of Betty Boop in their commercials.
Fox was inspired to go into voice acting after having taken a voice-over workshop in 1990 with Sue Blu, a Los Angeles-based animation director and producer. After moving to Los Angeles for the Betty Boop gig, she voiced supporting and background characters for The Simpsons, mostly with kids voices and loop groups, which she did for three years. She also voiced characters for the related productions Futurama and King of the Hill. One of her first anime roles was Sakura in Ninja Cadets. She voiced Lady Aska, a major character in the second season of Magic Knight Rayearth, a series in which she also rewrote lyrics and sang the theme songs. She voiced Kyoko in the Pioneer/Animaze dub of Akira. She voiced supporting character T-AI in a 2001 version of Transformers: Robots in Disguise. She voiced Paiway, the ship's nurse in Vandread. In 2003, she voiced the title characters in Omishi Magical Theater Risky Safety and Ground Defense Force! Mao-chan, as well as Sumomo in Bang Zoom's dub of Chobits. In his review of Mao-chan, Ryan Mathews of Anime News Network wrote that "Bang Zoom picked the perfect actress to play the lead role. [Fox], the owner of perhaps the cutest "little girl" voice in anime dub acting, is her usual adorable self as M.A.O." In 2004, she voiced Maya in Burn-Up Scramble and Tachikoma in the Ghost in the Shell: Stand Alone Complex series. For 2005–06, she would get involved in the Naruto series as Momiji and Mina and the Di Gi Charat series as Piyoko. In 2007, she and Lex Lang hosted a Voice Actor Boot Camp at Bang Zoom! Entertainment to help up and coming voice actors get into the business. In 2014, when Viz Media announced they were redubbing Sailor Moon and dubbing its new Sailor Moon Crystal series, Fox was chosen to voice Chibiusa, also known as Sailor Chibi Moon and Black Lady.
In video games, she voiced Mistral and A-20 in the .hack video game series, Flonne in various incarnations of Disgaea and Marona in Phantom Brave. She voiced Peashy in the Hyperdimension Neptunia series.
Fox is married to fellow voice actor Lex Lang. They live in Studio City, California. In 1998 they co-founded the Love Planet Foundation, a non-profit organization which creates educational materials for children on the importance of recycling, world water awareness, and the preservation of the planet. They also created Love Planet Productions, which includes several multimedia projects such as anime presentation shows, toddler shows and products, and Zen programming. In 2006, they founded a bottled spring water business called H2Om Water with Intention, which has received recognition as a sponsor at several events including Sting's Rainforest Foundation Carnegie Hall Concert and the Elevate Film Festival. Fox and Lang are Deepak Chopra meditation instructors.
Roles Done
Here is the complete list of roles that Sandy has done. Note that the bold, underlined and italic markings mark a LeapFrog role.
Anime
.hack - Mireille, A-20, Mistral, Asta
Ai Yori Aoshi - Utsume, Fairy Girl in Jungle Maze
AKIRA - Kiyoko (Animaze dub)
Aldnoah.Zero - Eddelrittuo
Angel Tales - Kurumi the Hamster
Appleseed - Hitomi
Argento Soma - Harriet "Hattie" Bartholomew
Battle Athletes - Various
Bleach - Ritze
Catnapped The Movie - Meeko
Chobits - Sumomo
Cowboy Bebop - Bowhead, Orphan, Pinky
Di Gi Charat - Pyocola Analogue III / Piyoko
Durarara!! - Haruna Niekawa
Earth Defender Mao-chan - Mao Onigawara
Fist of the North Star - Lynn
Flint the Time Detective - Talen
Fushigi Yuugi- Chiriko
Geneshaft - Tiki Musicanova
Gestalt - Suzu the Dark Elf
Ghost in the Shell - Tachikoma
Granblue Fantasy (series) - Vryn
Hanaukyō Maid Tai - Cynthia Landlavizar / Grace
Hand Maid May - Miyuki Zin
Haré+Guu - Marie
Heat Guy J - Monica Gabriel
Hello Kitty's Paradise - Lacey the Raccoon
IGPX Immortal Grand Prix (Microseries only) - Amy Stapleton
Kannazuki no Miko - Nekoko
Karas - Amefuriko
Love Hina - Moé, Kuro
Magic Knight Rayearth - Lady Aska
Mars Daybreak - Shie
Mobile Suit Gundam F91 - Kochun Hein, Leah Mariba
Mobile Suit Gundam: The 08th MS Team - Sweeter Twin
Nightwalker - Guni
Ninja Cadets - Sakura
Please Teacher! (also Please Twins!) - Maho Kazami, Marie
Pokémon Generations - Courtney
Risky Safety - Risky
Rave Master - Reina (young)
Sailor Moon - Chibi-Usa/Black Lady/Sailor Chibi-Moon (VIZ English Dubbed)
Scrapped Princess - Cin
Serial Experiments Lain - Myu-Myu
Shinzo - Este
Tenchi Muyo! - Neju Na Melmas, NaBiko
Transformers: Robots in Disguise - T-AI
Ultra Maniac - Luna
Vampire Princess Miyu - Kayo (Ep. 7)
Vandread - Paiway Underberg
Live-Action TV
Lizzie McGuire - Clover
Muppets Tonight - Spokeswoman for Rent Stavros Grouper's radierettes
Welcome Home Freshmen - guest star
Video Games
Ape Escape: Pumped & Primed - Helga
Atelier Iris 3: Grand Phantasm - Manna Martyr, Phenyl Neet
Brain Bloomers - Amy
Brave Fencer Musashi - Princess Fillet (credited as Marie Danielle)
Bravely Second - Minette Napkatti
Cross Edge - Cece, Mimi, Vivi
Disgaea (including Prinny: Can I Really Be the Hero? and Trinity Universe and the anime series) - Flonne, Anise
Elsword - Aisha Landar
Fire Emblem Heroes - Male Kana
Hyperdimension Neptunia Victory - Yellow Heart, Peashy
The Legend of Heroes: Trails in the Sky - Tita Russell, Renne
MeiQ: Labyrinth of Death - Connie
Phantom Brave (including sequel, We Meet Again) - Marona, Carona
Radiata Stories - Row (uncredited)
Rumble Roses XX - Aigle, Great Khan
Silent Bomber - Slain Civilians
Star Ocean: Till the End of Time - Meena
Tales of the Abyss - Tamara, Mieu
Animation and Children's TV
As Told by Ginger - Mipsy
Toonsylvania - Darla Doll, Baby Bear, additional characters
Mad Jack the Pirate - Magic Pink Fairy, additional characters
Hi Hi Puffy AmiYumi - Harmony
Jason and the Heroes of Mount Olympus - Pan Baby
Kidzone - The Ball
Old McDonald's Sing-Along Farm - Lucinda Chicken (with puppeteer Jane Oshita)
The Land Before Time 6: The Secret of Saurus Rock - Dinah
Futurama - Additional characters
Jay Jay the Jet Plane - Tracy, Snuffy and Tuffy (also in the My First LeapPad book, Jay Jay the Jet Plane: High Flying Adventures) (credited as Marie Danielle; 2001-2005)
LeapFrog series - Lily (four out of the six learning videos) (credited as Marie Danielle), Penny (four Scout and Friends videos)
My Life as a Teenage Robot - Melody
Pororo the Little Penguin: Pororo's Cyberspace Adventure - Petty (English version, uncredited)
Puppy in My Pocket: Adventures in Pocketville - Mela
The Simpsons - Various characters
King of the Hill - Various characters
LeapPad, My First LeapPad and LeapPad Plus Writing Books - Lily (in all 20 books, credited as Marie Danielle; mid-2002 to late 2005)

My First LeapPad:
LeapPad and LeapPad Plus Writing:
Trivia
When Sandy Fox voices Lily, the character sounds very much like:

Mistral from the .hack games
Connie from MeiQ: Labyrinth of Death
Tracy from Jay Jay the Jet Plane

Her husband is Lex Lang, another actor.
She is the highest-pitched voice for Lily, hence her voice being young and matching the age of a 5-year-old girl.
Her nickname is "Butterfly".
She can be also known as Sandra Marie Kessler or Sonja S. Fox.