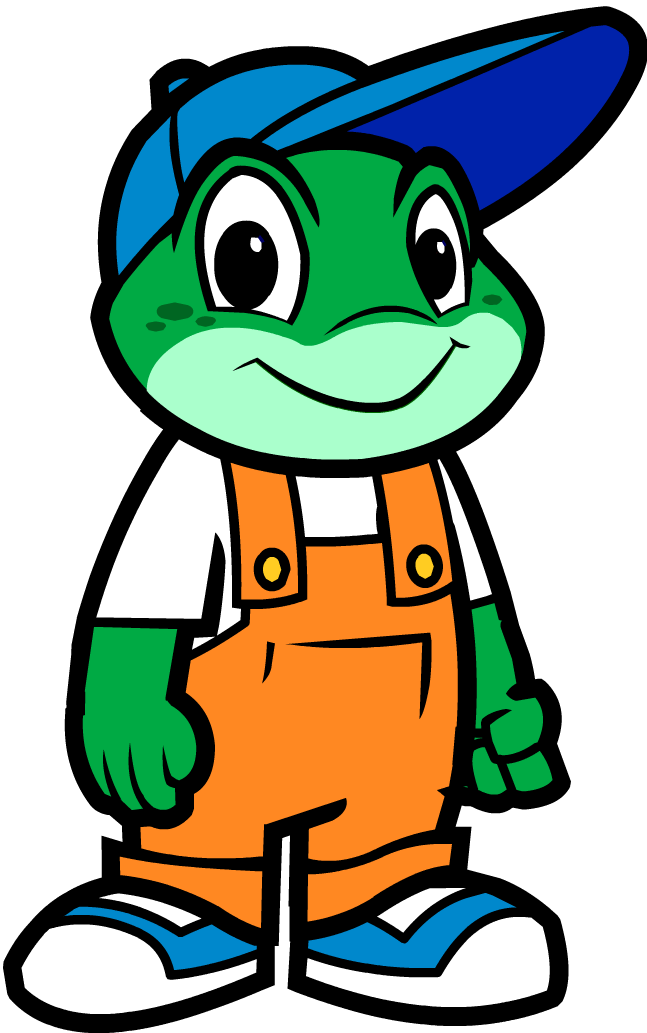 Tad is a male frog. He is youngest frog child of the frog kids at 3-4 (later 5) years old. His usual outfit is a blue baseball cap, a yellow t-shirt as inside clothes. In 2009, Tad's outfit is a red baseball cap, a blue t-shirt, brown shorts, and new blue sneakers. In 2014, he has a new outfit with a blue collared shirt, brown pants, and white shoes, and wears his glasses.
Voice
Personality and Facts
Tad, the youngest of the siblings, is a mischievous brother to Leap, but he was always a fun child to have around the frogs. In The Birthday Surprise, Tad sang a song called "Hey, Umbrellas!" to The Trick Umbrellas. In Tad Goes Shopping, Tad desired his wish for a big teddy bear. In Alphabet Adventures, he dreams of the alphabet, in which he learned with Professor Quigley in The Letter Factory. Tad was not happy in Tad's Good Night but was cheered up by his siblings and Grandpa Frog. He was lost in Lost and Found. He made a cameo appearance in Mole's Huge Nose, playing a lute. His favorite instruments are the piano, the trombone and the drums (in Fiesta in the House/Town). Tad took a walk with Grandpa Frog in Around the Block. He carried various birthday cakes in Pre-Kindergarten Math, a LeapPad Plus Writing book. He is also seen on the right side of the Fridge DJ Magnetic Learning Radio, dancing. Tad rowing a rowboat is symbolized for "Row Your Boat" in the Phonics Radio. He also appears as a game board piece in the Letter Factory Game.
Quotes
Hi! I'm Tad! I got a feeling that something weird is going to happen. (Lil's Loose Tooth)
Hi! I'm Farmer Tad! Listen to my banjo! (on the Fridge Farm toy)
Mom? Dad? Leap? Hello..? (Hospital Adventures)
Brrr! it's "c-c-cold" in here! (The Letter Factory)
Wow, it's "h-h-hot" in here. (The Letter Factory)
Oh yeah! (at the end of the finale songs of the first seven learning videos)
E, F, G, H, how many letters are there? (The Letter Factory)
Yeah, but Dad can't know, because well, the contest is a surprise. (The Talking Words Factory)
Oh no, this E is missing another line! (The Letter Factory)
Can we go inside to learn what it sounds like? (The Letter Factory)
♪ Hey, umbrellas! What do you say? ♪ (The Birthday Surprise)
Tell us another fishing story, Grandpa! (A Fisherman's Tale)
Do you have any seeds? (Learning with Leap)
This is just as much fun as addition, Professor! Can I try it? (The Math Circus)
Wait, what about my ice cream? (Code Word Caper)
On with the show! (The Math Circus)
Should we build more IG's? (The Talking Words Factory)
Lily, will you help me with this? (The Talking Words Factory)
The egg jumped out of my mitt! That egg sure is jumpy. (Lil's Loose Tooth)