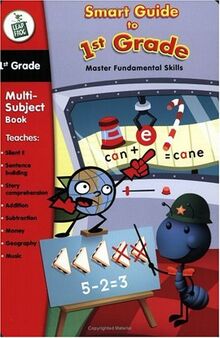 The Smart Guide to 1st Grade is a LeapPad game available in the Plus Writing and Microphone including the interactive book and cartridge. The erasable marker is not available.
Characters in Subjective Pages
Main Cast and Guides
Other
Little Red Riding Hood
Zookeeper
Royal Minstrel (page: Castle Chaos)
Pirates
Ants
Gordo Globe
Children (page: Emotional Theater)
Contents
Language Arts
Alphabet Soup
The Silent "e" Machine
Crack the Code Words
Castle Chaos
The Day Little Red Planned Ahead
Math
Zany Zoo Addition
The Ants Take it Away
Treasure Trouble
Toys for Sale
Social Studies / Geography
Gordo Globe Saves the World!
Science
Music / Emotions
Game
There are different icons at the bottom of the page to play a game.
Trivia
In the page Emotional Theater, if you touch Lily (top right), she will say "Music makes my heart sing!" and then play her flute. This is the last time that Lily's favorite instrument is noted to be the flute.
Gordo Globe (p. 20-21) is voiced by Charles Martinet in this book.
Little Red Riding Hood (p. 10-11), The Zookeeper (p. 12-13) and some kids (p. 24-25) are all voiced by Deanna Mustard.