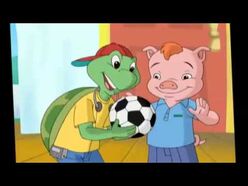 Tim is a turtle who is a friend of Leap. In Counting on Leap, he practices magic with cards. In The Great Dune Buggy Race, he knows addition and subtraction.
He comes before Upton Unicorn.
In the video Math Circus, he is one of the crowd's participants. He can be a bit hasty at times as seen in Learn to Read at the Storybook Factory
He was born on February 12, 1990 (making his age 9 - he is 1 year older than Leap, Dan and Parker).
He is from Greenville, South Carolina.